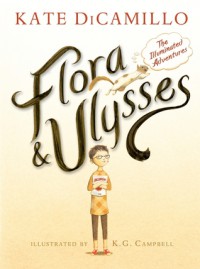 Another great read by my favorite children's author.
This story marks a certain shift in DiCamillo's work for me, perhaps influenced by her work on the Mercy Watson series, where DiCamillo aims for the humorous side of life.
Compared to her other titles, Flora and Ulysses is a lighter read. In a way, it lacks the depth and drama of Edward Tulane or Desperaux or Tiger Rising. It is a more entertaining read; more playful, and slightly ridiculous in its subject matter. Considering the target audience, this is likely a good thing.
That being said, I missed the depth and the drama.
Nevertheless, the novel was a fun read. Ulysses is a squirrel who gains superhero powers after an unfortunate incident. Through the squirrel, the reader is introduced to a set of well-crafted characters who interact in amusing ways. Now, while the squirrel story is the main theme for this novel, there is (as is the case with her other works) a second, concurrent theme which is equally, if not more so, important. It is a theme that DiCamillo does so well, perhaps best of all the children's authors I've read. It is the theme of struggle with one's self, with larger issues in life, a struggle with consequences to actions beyond the control of her little protagonist. This is a reoccurring theme in her writing: divorce, separation, feeling neglected, out-of-place, uncontrollable circumstances. I've found this theme in all of her novels, and I love the way she addresses these larger-than-life issues with the little reader in mind. Flora's parents are divorced; Flora's father has had a mild emotional meltdown and Flora's mother is too busy to pay attention to her. Her neighbor watches a child who was banished from the house by his own mother after she married a new man. These are real issue, and the kids' struggles are also real. I applaud Mrs. DiCamillo for bringing these issues to her writing, and for handling them in a positive way.
Yet, there is another thing about her work that I absolutely love: The way she introduces little readers to big words. Like her other works, Flora and Ulysses is sprinkled with words that will have the little reader reaching either for a dictionary or for a parent to explain their meaning. This not only enriches the reading experience, but it also provides for a valuable parent/child time where they can discuss the words and their meaning. I've read too many children's books that were watered-down to a second grade level (vocabulary-wise), and Kate DiCamillo never disappoints with her rich vocabulary.
Highly recommended for readers in fourth grade and above.